The 7 Best Cat Foods For Indoor Cats
01.04.2022.
Every product and service on World Cat Finder is independently selected by our editors, contributors, and experts. If you purchase something through our links, we may earn a referral fee. Learn more
---
If you own an indoor cat, you are aware that it has different requirements than an outdoor cat. Outdoor cats spend a lot of time hunting and patrolling their territory. These cats burn far more calories than indoor cats, who spend the majority of their time sleeping and lounging.
As more cats spend their entire lives indoors, as they should, more people are wondering what type of food is best for them. We've chosen several different brands to review for you so you can see how they differ. We'll go over the most essential information we encountered while testing them since this is crucial for you to make a great decision. Continue reading as we examine ingredients, vitamins, omega fats, taurine, and other factors to help you make an informed purchase.
Here is a list of the 7 best cat foods for indoor cats.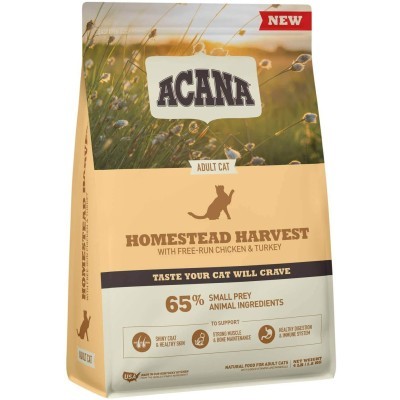 The ACANA Homestead Harvest comes in two bag sizes. The first three ingredients are deboned chicken, chicken meal, and turkey meal, and it contains 33% protein. In fact, small prey animal ingredients make up 65 percent of the food. It also has eggs, duck, and organ meats, making it a good taurine source. It's also high in DHA and omega fatty acids. This food is designed to help your cat's immune system and keep them healthy.
This food contains too much fat for many indoor cats, so be aware of the 16% fat content before purchasing it for your cat. Because the kibbles in this food are larger than those in most other cat foods, picky cats and cats with poor dentition may struggle to eat it.
RELATED: 7 Best Wet Cat Foods According to Vets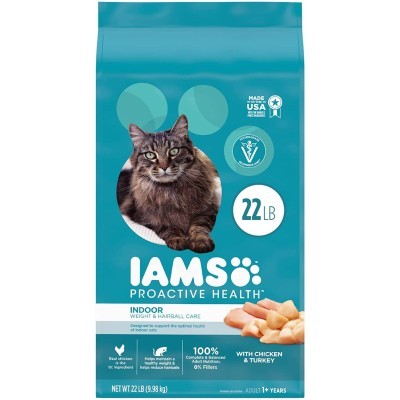 Iams Proactive Health is our BEST VALUE pick for the best cat food for indoor cats. It contains a lot of protein, which gives your pet a lot of energy and the building blocks for strong muscles. Its first ingredient is chicken, and it also contains omega fatty acids and taurine.
The only drawback we encountered while testing Iams was that some of our cats refused to eat it and tried to hold out until we gave them something else. However, there aren't many better brands than IAMS when it comes to balancing price and quality.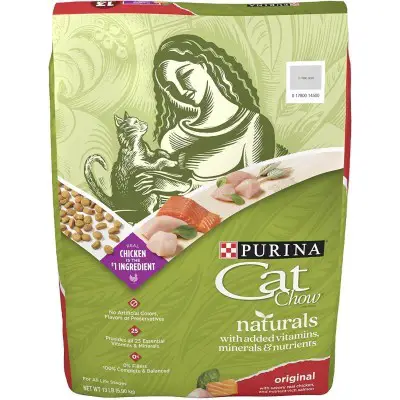 Purina Cat Chow Naturals Original is the best indoor cat food for the money. This food comes in four bag sizes, making it a good choice for people who have multiple cats. It contains 33% protein and 33% fiber. This food includes chicken as the first ingredient, as well as salmon, whole grains, and leafy greens. It contains a unique fiber blend designed to reduce hairballs and a lot of omega 6 fatty acids, which are good for your skin and coat.
The second ingredient in this food is corn gluten meal, which isn't ideal in cat food. Also, because cats are obligate carnivores, vegetables and grains aren't completely necessary in this food, but it is nutritionally balanced.
RELATED: 7 Best Automatic Cat Feeders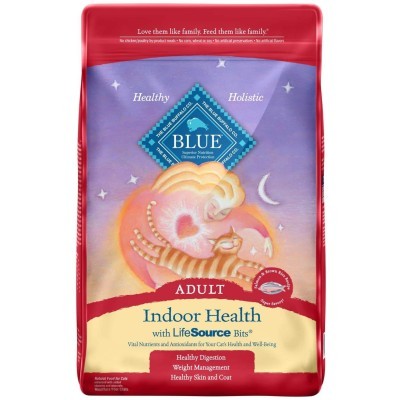 Blue Buffalo Indoor Health Care dry food comes in four bag sizes ranging from 2 to 15 pounds. With deboned salmon and chicken meal as the first two ingredients, it contains 32% protein and 6% fiber. It contains Blue Buffalo's "LifeSource Bits," which are vitamin, mineral, and antioxidant-rich kibble pieces that aid immune system health. This food contains a lot of omega fatty acids, which are good for your skin and coat.
Picky cats may dislike the LifeSource Bits and will either pick around them or refuse to eat the food entirely. While these pieces are small, the kibble pieces are larger than many other kibble options, which may be difficult for some cats. For indoor cats, this food has a relatively high fat content.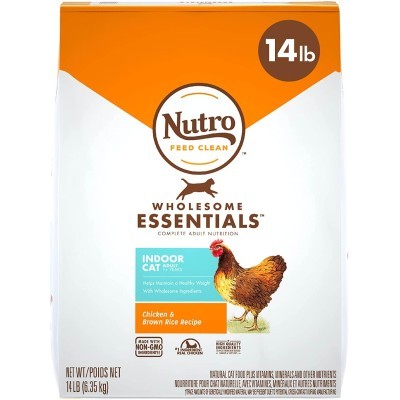 Nutro is one of the oldest names in the natural pet food industry. Their success is built on adhering to their trademarked "Feed Clean" principle of providing dependable, simple, and purposeful food on which pet owners can rely. Yes, Nutro Wholesome Essentials is more expensive than other dry cat foods. Still, with its high-quality natural ingredients and special recipe designed to promote healthy weight and digestion in adult indoor cats, we had to include it on our list of the best cat food for indoor cats.
This Nutro dry cat food contains no artificial preservatives, flavors, or colors, as the company claims. Protein accounts for 33% of the formula, and chicken is the first ingredient on the list. The 378 kcal/cup (ideal for an indoor cat) is high in vitamins and minerals that cats require. Nutro Wholesome Essentials also contains omega-6 fatty acids to help your cat's coat shine, taurine to support their well-known keen eyesight, and plenty of natural fiber (including beet pulp and oat fiber) to help your cat's digestive system function properly.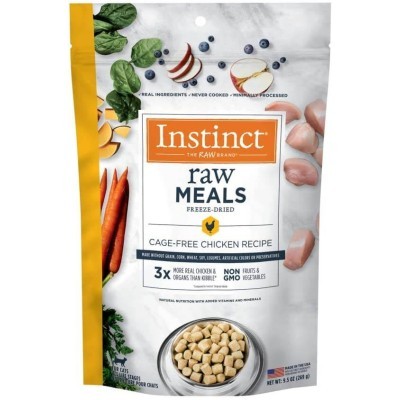 While a few veterinarians mentioned the benefits of raw food for cats, the majority advised against preparing it yourself due to the risk of contamination. The less processed a food is, the more nutritious it is, but few people want to deal with the potential bacterial dangers of feeding raw food.
Instead of grinding up raw meat in your kitchen, vets recommend Instinct's freeze-dried raw food, which mimics the nutrient-rich food your cat would eat in the wild but is safe to feed at home. This results in a very nutritious, less processed version of cat food that cats appear to enjoy.
RELATED: What Human Foods Can Cats Eat? List of 24 Safe Human Foods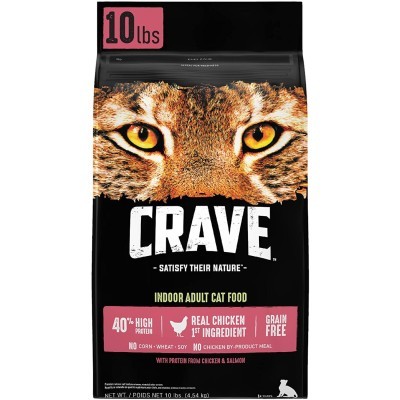 CRAVE Grain Free High Protein is one of the best premium options. There are several flavors to choose from, so even picky cats can find something they'll like. The number one ingredient is meat, which caters to the protein-rich diets that cats require to thrive. Other nourishing ingredients include pea protein, potato protein, flaxseed, and various vitamins and minerals, such as Vitamin E, which has been shown in studies to help cats' immune systems.
The recipes are inspired by your pet's ancestral hunting diet and contain high-quality protein and carbohydrates for healthy muscles, energy, and immunity support.
How to pick the best indoor cat food?
Indoor cats have different nutritional requirements than cats who spend the majority of their time outside. Outdoor cats expend a lot of energy hunting and prowling around their territory. In contrast, indoor cats, with the exception of the occasional midnight zoomy episode, spend the majority of their time napping. What should you look for when shopping for indoor cat food? We've got the answers right here.
RELATED: Can Cats Eat Dog Food? What To Do If It Happens?
Look for foods with the word "protein" listed first
Did you know that cats are carnivores by nature? They need to eat meat or fish to get the nutrients they require to function properly. With this in mind, it is best to select a cat food that contains protein at the top of the ingredient list. Animal by-products can be derived from both meat and fish, and both have advantages for your cat. It is not advisable to feed a vegetarian or vegan diet to a cat. Cats require a diet high in protein and low in carbohydrates, which a carnivorous diet provides.
Commercial food
You might think that grilling up a fresh salmon steak for your cat is the best way to provide them with the nutrients they require, but this is not always the case. In fact, the commercial cat food industry is highly regulated. All cat food must meet the minimum nutritional requirements of a cat. Choosing commercially prepared food ensures that your pet receives all of the nutrients they require.
RELATED: Can Cats Eat Apples? Here's How To Safely Feed Apples To Your Cat
Examine the label
Cat food, like human food, must include a list of ingredients and nutritional information. And, just like with human food, the ingredients can reveal a lot about a cat food brand. Ignore any flashy labels and go straight to the back of the package to learn about the ingredients. Are the first few ingredients words that you can't even say? Or are the first few ingredients meat and vegetables? If protein is at the top of the list and you recognize the majority of the ingredients, that cat food is most likely a good choice.
World Cat Finder Team