7 Cat Treats That Your Cat Will Go Crazy About
31.01.2022.
Every product and service on World Cat Finder is independently selected by our editors, contributors, and experts. If you purchase something through our links, we may earn a referral fee. Learn more
---
Cat treats are a helpful tool cat owners can use for various reasons. You can reward your cat's behavior, hide pills in them, or simply bond with your cat. Choosing the best cat treats will depend on why you want to give your cat said treats. That will determine what you should look for in a cat treat and how many you can give to your cat. Here are the best cat treats, according to experts on our team.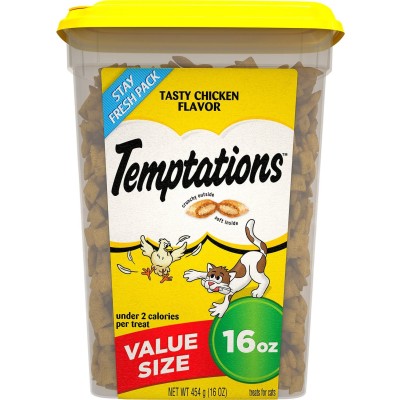 Our top pick is TEMPTATIONS Classic Crunchy and Soft Cat Treats. These treats are especially interesting to cats because they're crunchy on the outside and soft on the inside. They are completely balanced, and one treat is less than 2 calories, so you can even use them as training treats. If you control your cat's consumption, there is no risk of weight gain. These are chicken-flavored, and you know your cat loves that taste.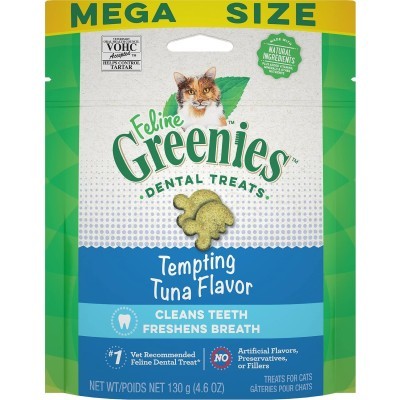 At World Cat Finder, we believe that all treats should serve a purpose. That's why our vets recommended FELINE GREENIES Natural Dental Care Cat Treats. These treats have a dual purpose - they can be a reward, and they'll make sure your cat's teeth remain healthy and white. These dental treats are ideal for dental care, and cats find them tasty. These are tuna-flavored, and they come in several sizes. It is a great product your cat will absolutely love.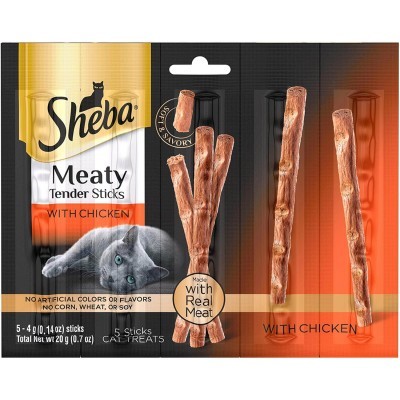 If you talk to other cat owners, many will recommend the Sheba Meaty Tender Sticks. Cats usually go crazy after these treats, so their palatability is never in question. You can choose three different flavors (Chicken, tuna, salmon) and see which one your cat loves best. These treats are soft, and they come in a practical package that allows you to open one treat at a time. Make sure you control the amount your cat eats, and never overdo it with treats. The manufacturer recommends one stick per day.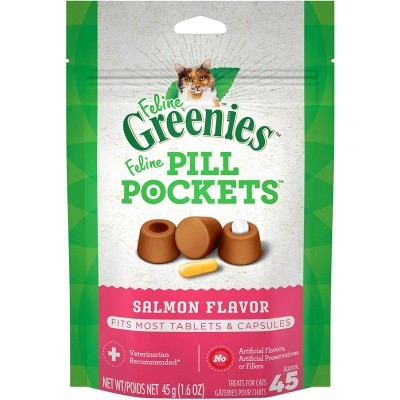 Another treat that cat owners highly recommend is the FELINE GREENIES Pill Pockets. All experienced cat owners will tell you how complicated it can be to get your cat to take a pill. That's where FELINE GREENIES Pill Pockets come into play. These natural cat treats have a special shape that allows you to place a pill in them. Your cat will take its medicine gladly if it comes wrapped in these delicious treats. The one we recommend is salmon-flavored, but you can opt for tuna&cheese.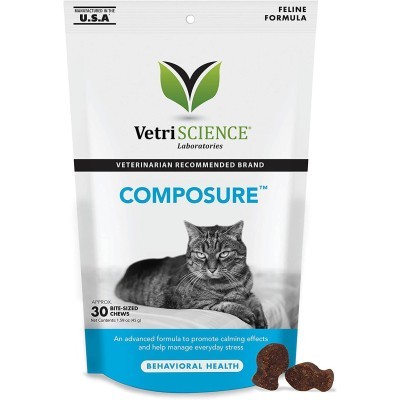 If your cat is anxious and has some behavioral issues, the VetriScience Laboratories Composure cat treats might help. These soft chews use the natural ability of Colostrum, L-Theatine, and Thiamine to ease your cat's anxiety without interfering with their usual personality. These treats are chicken liver-flavored, which means your cat should be pretty happy with the taste. Plus, these treats are pretty effective; they start working after only 20-30 minutes.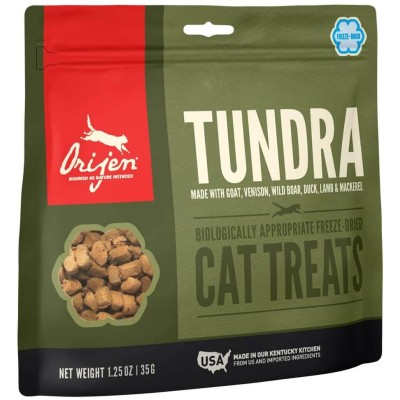 We are huge fans of Orijen pet food, and you shouldn't be too surprised we included the ORIJEN Freeze-Dried Cat Treats in this list. These guys only use premium ingredients, which is something all cat owners want to see. This cat treat recipe includes protein from Boer goat, wild boar, ranch-raised venison, Arctic char, free-run duck, and ranch-raised mutton. There aren't many better or healthier recipes for our cats. This is a fantastic product we will gladly stand behind.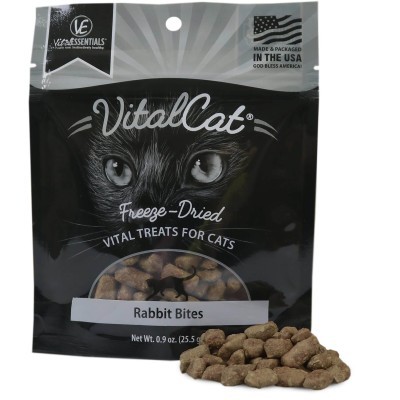 Another fantastic product for you and your cat is the Vital Essentials Vital Cat Freeze-Dried Cat Treats. These cat treats are completely natural and raw, slowly frozen to keep all the healthy ingredients in them. These treats are a great source of vitamins A, B6, and taurine, so you will not only give your cat empty calories. This is a great choice your cat will undoubtedly enjoy.
World Cat Finder Team