7 Best Automatic Cat Feeders in 2023
05.02.2022.
Every product and service on World Cat Finder is independently selected by our editors, contributors, and experts. If you purchase something through our links, we may earn a referral fee. Learn more
---
Taking care of a cat and balancing a full working schedule can be challenging. Luckily, cats do pretty well on their own. One of the things we, as responsible cat owners, need to ensure is that our cats get their meals regularly. If you want something that will help you with that, consider getting an automatic cat feeder. They are incredibly practical, and some even look absolutely fantastic. Here are the 7 best automatic cat feeders for your cat.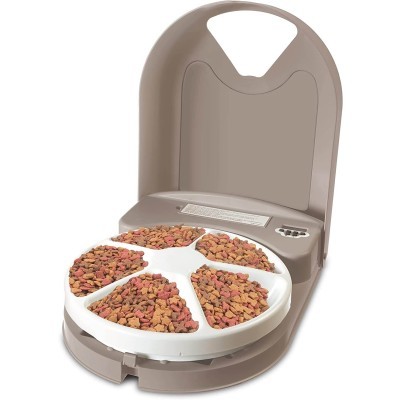 If you're looking for a practical automatic cat feeder that can store up to 5 servings, making it ideal for owners that leave their cats for a couple of days, the PetSafe 5 Meal Programmable Automatic Cat Feeder is the right choice for you. We love this product because it's flat, maintenance is easy, the bowls are dishwasher safe, and it comes at a reasonable price. This is a great product you can program and make sure your cat gets regular meals even if you're away.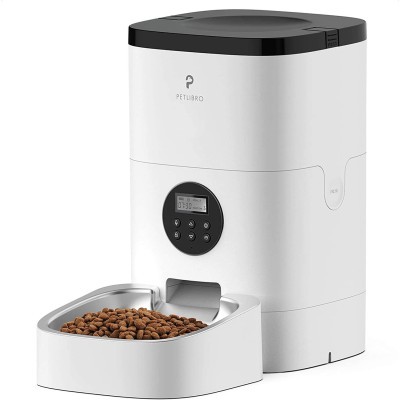 If you're looking for a high-quality, high-tech automated cat feeder, the PETLIBRO Automatic Cat Feeder is the product for you. This is one of the best-designed feeders we came across, and we reviewed nearly 150 products. It comes with a secure lock, so your cat can't tip it over to reach the food inside. This product is easy to program, and it can hold nearly 17 cups of food in it. It even has a backup power supply in the form of batteries. The basic model has a pretty reasonable price, and this product will make your life easier.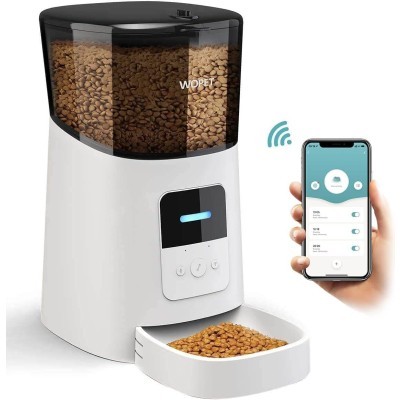 The WOPET 6L Automatic Cat Feeder can be programmed to deliver up to 6 meals a day. It has a pretty sizeable 6L capacity, which means it can hold enough food for a long time. This automatic feeder can be controlled from your smartphone. All you need to do is download the WOPET app, and you can have complete control over your cat's feeding. One of the things we love is the ability to record a message for your cat. For example, you can record yourself saying "Lunchtime" or "Food" every time the feeder fills your cat's bowl. Plus, the price isn't too bad.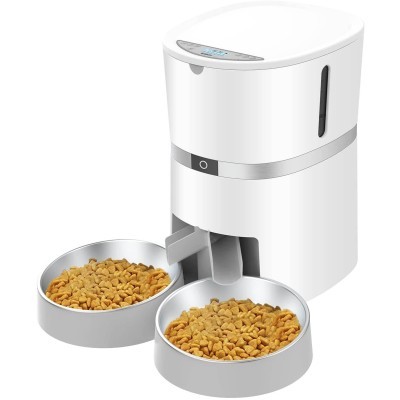 The WellToBe Pet Feeder is ideal for households with multiple pets. This automatic cat feeder allows you to split your pet's foods and serve them separately. You don't have to buy two different feeders. The kibble shouldn't be larger than 0.47 inches; otherwise, the feeder might get jammed. You can program it for up to 6 meals a day, with 1 - 48 portions of 0.28 oz (about 1/16 cup) per meal for 1 portion. This model also allows you to record a message for your cat or dog. The food containers are removable, making maintenance easy.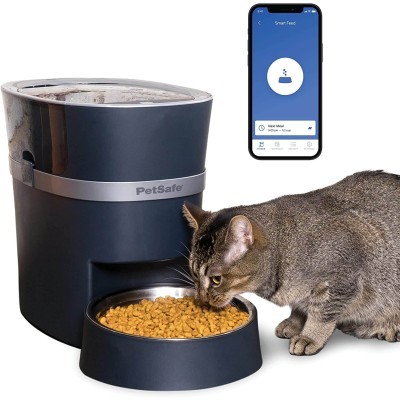 The PetSafe Smart Feed Automatic Cat Feeder earned the 2020 PET INNOVATION AWARD for its innovative design. It has a large enough container that will keep the food fresh, but we love that it is compatible with Alexa. You can tell your Echo device to give your cat a snack or serve its meal from anywhere in your home. Plus, you can use Amazon Dash Replenish for orders once your cat's food runs low. The only thing left to do is clean and refill the feeder. With this automatic cat feeder, you'll never run out or forget to feed your cat ever again.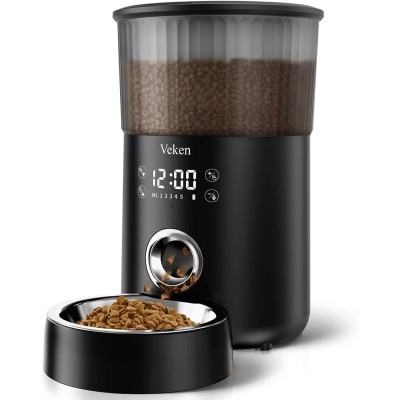 If you're looking for a feeder with the best value, you should consider getting the Veken Automatic Cat Feeder. This model has a very affordable price. However, the manufacturer didn't compromise on the quality to get a lower price. This is still a precise, reliable product that will serve your cat's meal exactly when you programmed it. It has a dual power supply, plays prerecorded messages, and maintenance is pretty easy. Plus, it comes in two colors - black and white. Overall, it is a great product we are pretty happy with.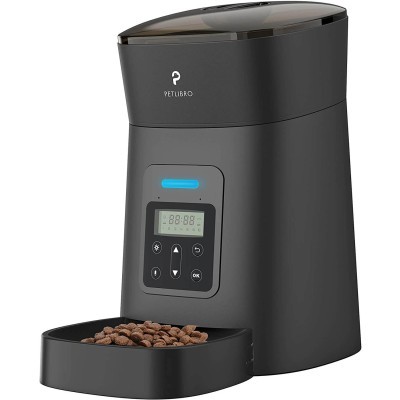 This is another automatic cat feeder from PETLIBRO on this list. These guys really know how to make a decent automatic feeder. This model comes at a lower price, and it has a lower capacity. It might be an excellent choice for small cats or dogs, like Chihuahuas. The interesting thing is that this model has a Clog-Free Design. Most users know older models used to get jammed all the time. It is an excellent product with a fantastic design. We can guarantee you won't get disappointed if you decide to go for this model.
World Cat Finder Team