7 Best Dry Kitten Foods In 2023 - Reviews & Top Picks
26.01.2022.
Every product and service on World Cat Finder is independently selected by our editors, contributors, and experts. If you purchase something through our links, we may earn a referral fee. Learn more
---
One of the first decisions new cat owners will have to make is what food to give their new kittens. There are many options, and picking the best kitten food can be tricky. When selecting the best food for your kitten, you should consider a few things, so don't buy the first food you come across. Luckily, World Cat Finder is here to help. We have spoken to cat breeders, owners, and vets in order to find out which kitten foods are the best. Here are our recommendations for the best kitten foods.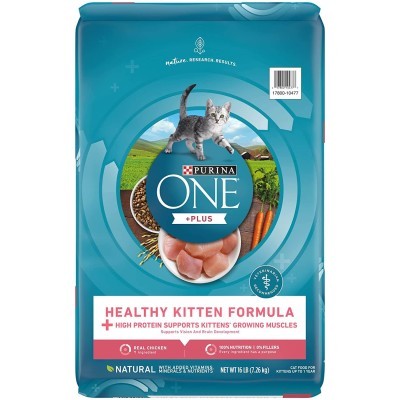 If you trust data, the absolute best pick you can make for your new kitten is Purina ONE Healthy Kitten Formula. This kitten food is a best seller for a very good reason - it's fantastic. The nutritionists at Purina's laboratory created a well-balanced, nutritious, high-quality food that will provide your kitten with everything it needs to grow and develop into a healthy cat. This one has chicken as the number 1 ingredient, and chicken is a fantastic protein source. You can be sure you will make the right and safe decision with Purina.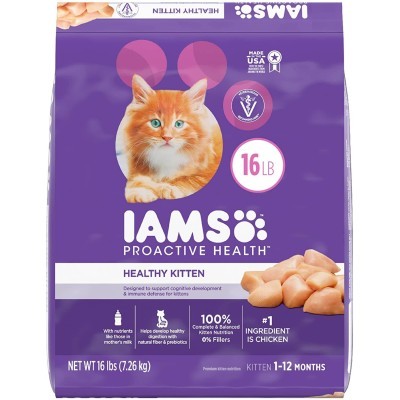 IAMS is a pet food manufacturer known for low-budget pet food. However, they are the best you can get for a lower price. Their IAMS PROACTIVE HEALTH Kitten recipe uses chicken as the main ingredient. We already know chicken is an excellent protein source. This recipe includes loads of omega-3 DHA, which promotes brain development and cognitive functions. It is a great choice that comes at a reasonable price.
We are big fans of Blue Buffalo's cat and dog food. These guys use fantastic ingredients, and their food is very palatable to our pets. It's not that surprising they made amazing kitten food. The Blue Buffalo Wilderness High Protein Grain-Free is a fantastic recipe that provides your little hunter with everything it needs. This recipe is also based on chicken, and it includes essential fatty acids found in the kitten's mother's milk. It even contains something nutritionists at Blue Buffalo call LifeSource Bits. It is a mixture of antioxidants, vitamins, and minerals necessary for the kitten's development.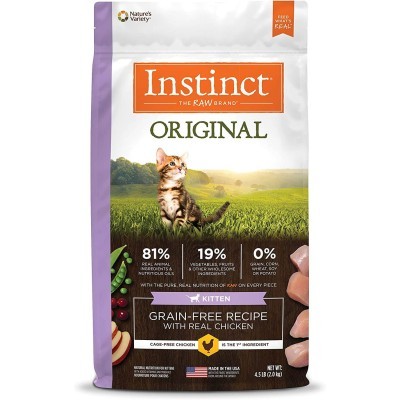 After giving more than 100 recipes to our vets to review, most of them agreed Instinct Grain-Free Kitten Food is a premium choice. It is absolutely packed with beneficial nutrients your kitten needs. It contains taurine, essential acids, vitamins, antioxidants, minerals, and premium quality protein. It is a great choice, but it does come with a downside - it's pricey. However, you might expect to pay a bit more for such quality, so most cat owners are not surprised by this food's price. Nevertheless, if your budget can handle it, there is nothing better for your new kitten than this food.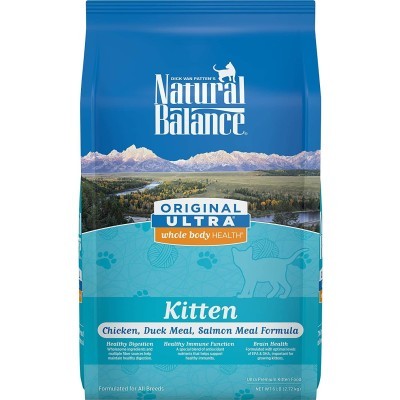 If you're looking for kitten food that's not exclusively based on chicken, you should seriously consider the Natural Balance Original Ultra Kitten recipe. This is a surprisingly good product kittens seem to love. It gets its protein from chicken, duck meal, and salmon meal. It contains about 38% of protein, which is usually enough for a developing kitten. As you'd expect, it has all the necessary nutrients a growing kitten needs, so you can be sure your pet's needs will be satisfied. Plus, kittens usually love the taste.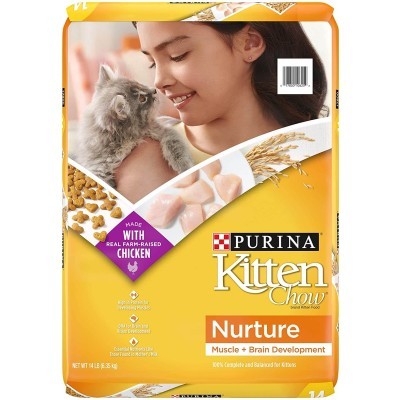 This is the second Purina recipe we will include on our list of the best kitten foods. The Purina Kitten Chow Dry Kitten Food has a recipe based on chicken. It contains plenty of other essential nutrients, like DHA, that will support your kitten's development. The DHA content is especially important because it supports the kitten's brain development, vision, and cognitive development. Plus, this is a budget-friendly cat food. It comes at a reasonable price and uses pretty good quality ingredients.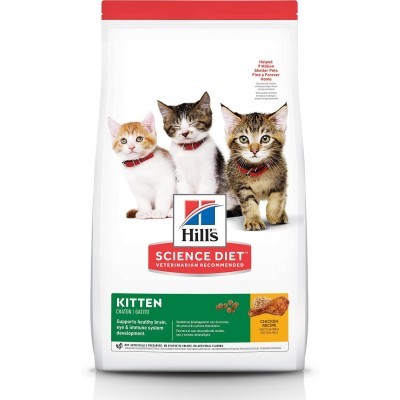 Hill's is a known pet food manufacturer, and cat owners seem to be pretty happy with it. These guys have a fantastic vet (prescription) diet program, but their other products are also pretty good. The Hill's Science Diet Dry Kitten Food is based on chicken and gets its DHA from fish oil. As you know, these ingredients are essential for a developing kitten, and there's nothing more important than a high-quality diet. This brand is not the cheapest, but you will get a fantastic diet that your kitten will love.
World Cat Finder Team