7 Best Cat Window Perches
14.01.2022.
Every product and service on World Cat Finder is independently selected by our editors, contributors, and experts. If you purchase something through our links, we may earn a referral fee. Learn more
---
All cat owners know how important it is to watch the world outside your window. You never know when a bird might come by or what other interesting things life has in store for us. Of course, we are talking about our cat's favorite activities. Overseeing things happening outside is one of the things our cat enjoys, and we want to make sure our cats are comfy while they do that. That's where cat window perches come into play. Here are the 7 best window perches you can get for your cat.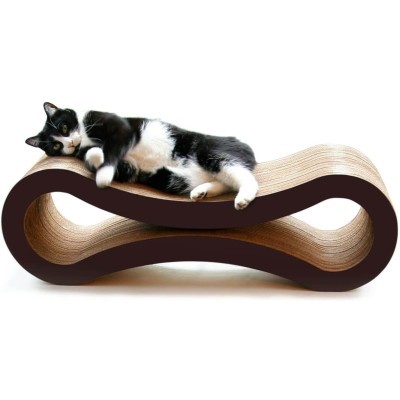 The best thing you can get for your cat and your interior is the PetFusion Ultimate Cat Scratcher Lounge. Not only is this window perch useful, but it also looks absolutely fantastic. We can reveal that this is the product we ordered ourselves, and we didn't regret it for one second. The material is excellent for scratching and lounging, so you can be pretty sure your cat will be delighted with it. This product will become your cat's favorite place.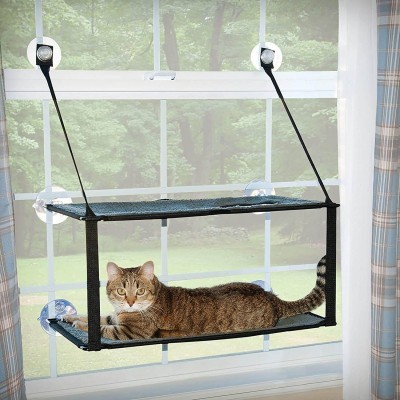 If you want a product that gives your cat 2 or even 4 levels for laying on a window perch, you should seriously consider getting a K&H Pet Products EZ Window Perch. You can easily choose different levels and give your cat different options. If you are worried about the suction cups, you will be glad to hear they are industrial-strength suction cups and can easily hold up to 50 pounds. That is more than enough for two cats. This is a great product your cat will surely enjoy.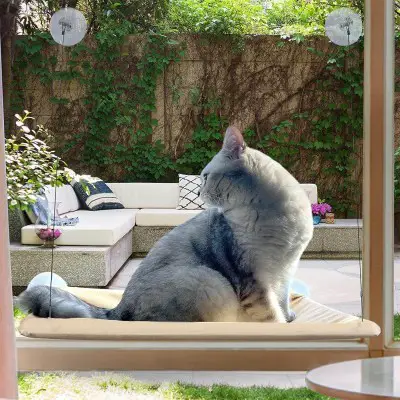 Cat owners are usually pretty smart about their spending, and you can be sure they will not recommend something they feel is not worth what they paid for it. That's why we included PETPAWJOY Cat Window Perch on this list. It is a fantastic product cat owners recommend. It includes oxford cloth, which is very durable and sturdy. You can easily add a cat bed to it and make sure your cat can enjoy it even in the winter. It comes with industrial-strength suction cups, so you can be sure it's safe.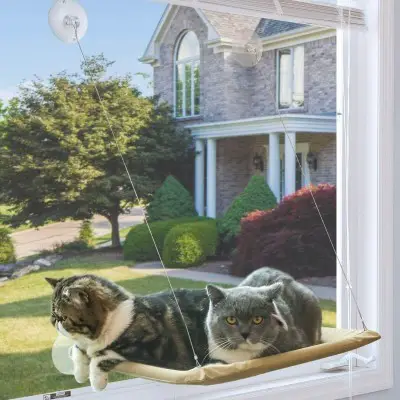 Another great, highly-recommended cat window perch is the NOYAL Cat Resting Window Perch. It also comes with heavy-duty suction cups, so you don't need to worry about your cat's safety. This is a really lightweight product, but it is made of durable plastic. These materials kept the price reasonable, which is why this product is very budget-friendly. It's made of breathable oxford cloth, so you can be sure your cat will be comfy. This is an excellent pick for all cat owners.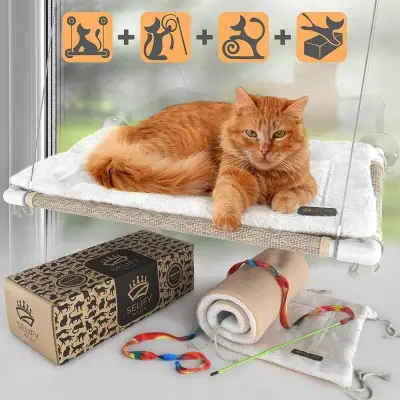 If you have a bigger cat, you will need a sturdier window perch. That's where the Selify Cat Window Perch comes into play. Its special suction cups are strong enough to hold 60 pounds, making it one of the strongest products on the market. It includes a fleece cushion, and you know your cat loves those. Plus, the cushion is machine-washable, so maintenance is not an issue. Overall, this is a great product that will be worth your money.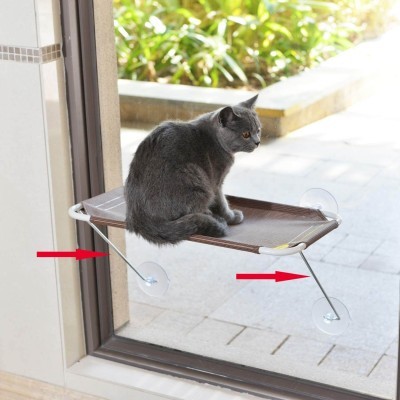 The LSAIFATER All-Around 360° Iron Cat Window Perch has lower support, so nothing comes into the way of your cat's comfort. You can be sure your feline companion will enjoy basking in the sun in their new, durable, and safe window perch. The fabric mat is comfortable and easy to maintain, so this product is not something you will have to worry about. Just throw it in the washing machine, and you're done. Plus, this company even offers replacements or quick refunds if you're unsatisfied with your purchase. That's not something we come across often.
If you want a cat window perch that doesn't include suction cups, you should consider getting the K&H Pet Products Kitty Sill. This perch comes with industrial-strength adhesive, and you only need a 2" window sill for safe installation. Keep in mind that you need to give 24 hours for the adhesive to cure. Make sure you follow that piece of instruction because the window perch might not hold if you mount it earlier. This product can hold up to 40 pounds, which is enough even for smaller dogs. Plus, the design of the product is pretty interesting.
World Cat Finder Team