5 Best Exercise Cat Wheels
18.01.2022.
Every product and service on World Cat Finder is independently selected by our editors, contributors, and experts. If you purchase something through our links, we may earn a referral fee. Learn more
---
If they're given a chance, cats will eat and nap all day. Living such a life might sound ideal to our cats, but the truth is, it's not that healthy. Our cats should have a decent amount of physical exercise. Since most cats are indoor cats, it is up to the owner to find a creative way to provide them with that all-important exercise. One of the ways you can easily do that is by getting a cat exercise wheel. Here are a few of the best cat exercise wheels you can get for your little companion.
Our top pick in the category of the best cat wheels is the PawHut 56" Cat Tree Activity Condo. We love it because it offers different things and activities for our cat. This product includes several scratching posts, a lounge room, a small enclosed kitty house, and an exercise wheel. The product comes with a soft plush material that is ideal for cats that want to rest and nap. Another thing we love is the wood. This activity condo has a very warm appearance, and it will easily fit inside most interiors. It is a great product your cat will undoubtedly enjoy.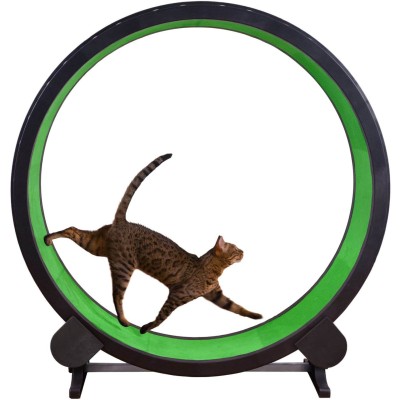 One Fast Cat Exercise Wheel is a very interesting product. The company that produces it started as a Kickstarter campaign. Through research and testing, they came up with a very useful and practical product for cats' physical activity and training. This product is suitable even for larger cats with weight issues that reach more than 25 pounds. If you want to get your large cat a good exercise cat wheel, this one should be one of your top contenders. Assembly can be tricky, but there are different YouTube videos explaining how to do it.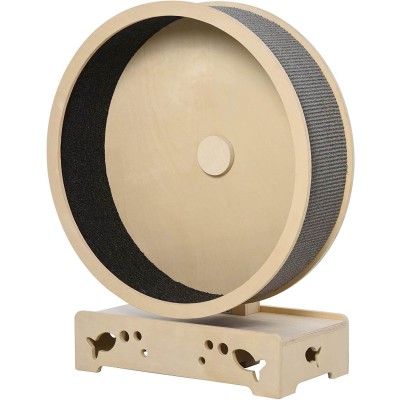 The PawHut Round Hamster-Wheel for Cats is another interesting choice for you and your cat. The price isn't that bad, and the design is really lovely. We already mentioned we love wooden products, and this cat wheel has a beautiful wooden finish. The running surface is carpet, so your cat's paws will be safe and comfy during their workout. Another big bonus is that maintenance is fairly straightforward; clean the wood with a damp cloth and vacuum the carpet. Plus, the wooden parts are sanded and rounded, so your cat doesn't get in any kind of accidents.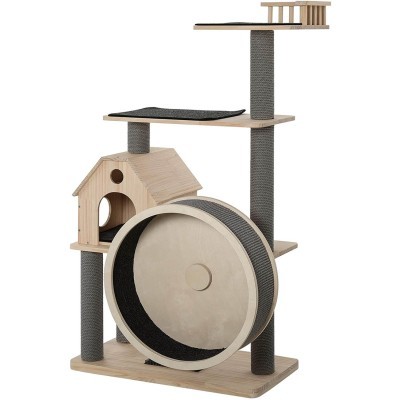 There are many reasons we love the Penn-Plax Tree with Built-in Wheel, but the most important one is that it includes different things in one piece of cat furniture. This product has several platforms for resting and napping, 3 sisal-covered scratching posts, and an exercise cat wheel. The manufacturer managed to include all of those things in one stylish piece for our cats, and we are really happy with how it looks. The main issue is that this is a product for cats up to 15 pounds.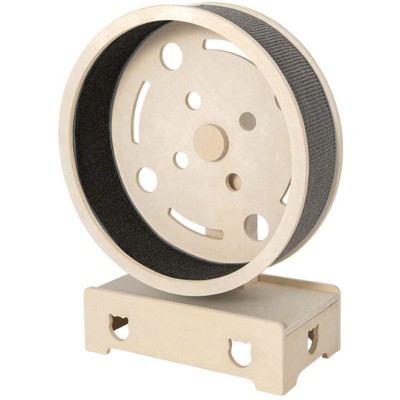 The SUPFAKE Cat Exercise Wheel is pretty much the same as our Nr. 3 spot on this list. The price is slightly lower. The exercise cat wheel is made of wood and sisal, making maintenance reasonably easy. You can easily wipe the wood with a damp cloth and vacuum the carpet. Your cat can scratch the outside of the wheel, so this product might keep your furniture safe. The wood color is pleasant, and the overall design is not too shabby. Overall, a pretty good product for all cats and their owners.
World Cat Finder Team