5 Best Cat Strollers in 2023
19.01.2022.
Every product and service on World Cat Finder is independently selected by our editors, contributors, and experts. If you purchase something through our links, we may earn a referral fee. Learn more
---
Walking and socializing outside are not only reserved for dogs; there is a safe way you can provide the same thing for your cat. A cat stroller can be a great way of getting your cat on some fresh air and among other people. Some cats can learn to behave and walk on a leash. However, most cats hate leashes, so getting a cat stroller might be a great option. There are fantastic models to choose from, and some are better for serious travels, and some are for walking your cat in an urban jungle. Here are our favorite cat strollers.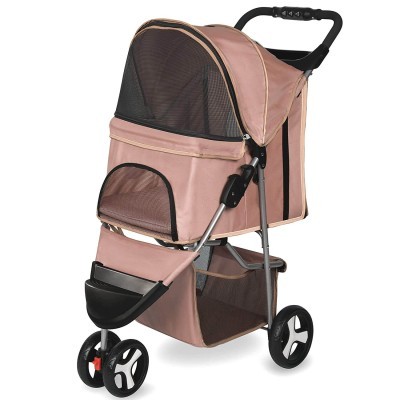 Our top pick in the "best cat stroller" list is the fantastic Paws & Pals 3 Wheeler Pet Stroller. There are many positive things we can say about this cat stroller, so let's start with the price. This particular model is $79.95, which isn't much for a stroller. The second thing is that it's very practical. It will completely fold with one push of a button located on the handle. The zip tie in front makes loading and unloading your pet very easy. You can stroll down the street in the convertible mode, with the zip untied. However, make sure you use a leash tie, so your cat doesn't escape. Overall, it is an excellent product for all travelers and senior cat owners.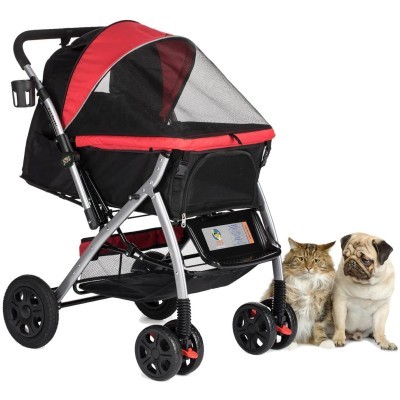 If you travel a lot with your cat, the HPZ Pet Rover Premium Heavy Duty Cat Stroller is the right choice for you. This stroller is durable, practical, and well designed. This particular model has rear-wheel braking, so stopping shouldn't be an issue. It can comfortably fit even large cat breeds, like the Maine Coon. It comes with a lightweight frame and Comfort-Ride wheels. You can be sure your beloved feline companion will feel more than comfortable in their new premium cat stroller. This product is very safe, and it is better suited for frequent travelers.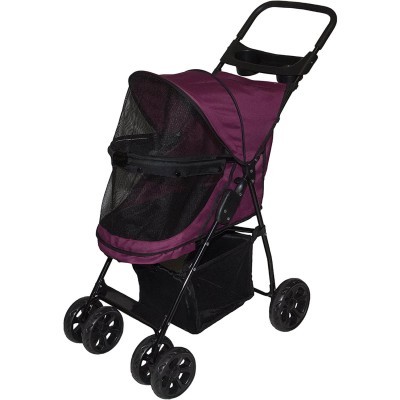 If you love taking your cat for a stroll in the park or downtown, the Pet Gear No-Zip Happy Trails Lite Pet Stroller might be the right choice for you. Many cat owners recommended this stroller model, and we tend to trust cat owners. They do their research before they decide to purchase something for their pets, and many agree this is one of the best choices you can make. This model has a unique no-zip closing system, so there's no need to worry about jammed zippers. It is pretty light, so you won't have any problem pushing it around your block. This is a fantastic product for travelers and regular cat show attendants.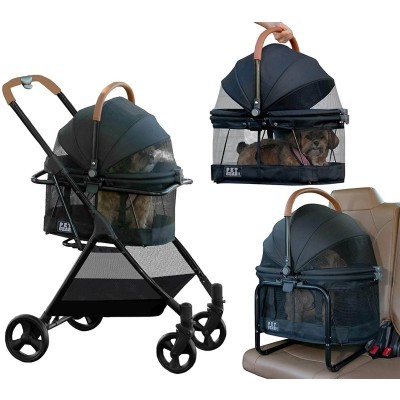 We absolutely love the design of the new Pet Gear View 360 Stroller. The most important thing for most cat owners is to allow their cats to see in different ways. You want your cat to be able to see what's going on around them, so this model is something you should seriously consider. The removable basket can be quickly picked up. This cat stroller is foldable, so you can simply fold it and tuck it away if you're not using it. This is ideal for all travelers, and you can be sure your travels will be safer and more comfortable with this cat stroller.
If you are a jogger and want to include your cat in your activities, the Petique All Terrain Jogger-Blazin' Berry Pet Stroller is the obvious choice. This cat stroller has large bike tires, which means a smooth ride and shock absorption. You can take this stroller on different terrains and be sure your cat's comfort won't be affected. You can even order bike attachments, so this stroller becomes a part of your cycling routine. It will include a tire pump, so you don't have to look for additional things. The mesh is made from PVC, so your cat will safely stay inside the stroller. This is an excellent choice for all runners, cyclists, or hikers that want to take their cats with them on adventures.
World Cat Finder Team