The 5 Best Cat Litter Box Furniture
04.01.2022.
Every product and service on World Cat Finder is independently selected by our editors, contributors, and experts. If you purchase something through our links, we may earn a referral fee. Learn more
---
If we are completely honest, looking at a cat litter box is not the prettiest sight in the world. Luckily, there are fantastic cat litter box furniture pieces you can choose from. They come in all shapes and sizes, which means there is something for any interior. These stylish pieces will conceal the ugly litter box and its contents. Plus, you can get a beautifully designed piece of furniture that will bring some flair to your home. Here are our favorite pieces of cat litter box furniture.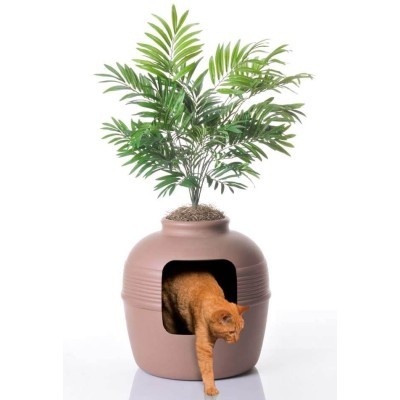 If there's one thing we love, it is pet furniture disguised as something else. The Good Pet Stuff Hidden Litter Box looks like a clay pot. It even comes with a fake plant on top. Numerous reviews explain how no one can actually tell it's a litter box, which most of us want. Not only can this piece fit in any room, but it also contains odors. It has a hidden filtration system, and the top part can be completely removed for easy scooping.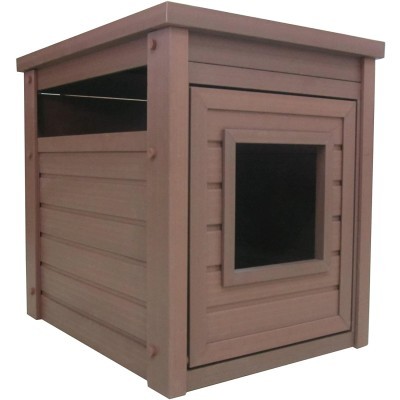 The New Age Pet ecoFLEX Habitat N' Home is something many cat owners recommend. You can use it as a litter box and an end table. It is pretty stylish, and it comes in different colors. That means it is pretty easy to place in any interior. This litter box furniture comes in two sizes, and buyers say it is really easy to assemble. It has a large entrance and side windows that provide plenty of airflow. It is a great piece you will most certainly be satisfied with.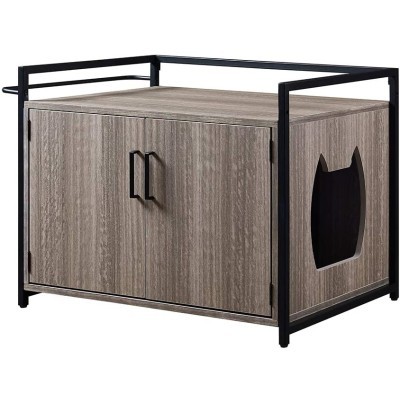 If you love modern-looking furniture, you will love the Unipaws Cat Litter Box Enclosure with Metal Frame. The wood looks absolutely fantastic, and the metal parts give it a modern look. If you don't know what you're looking at, it is impossible to know it is a litter box. Your guests will think you have a modern piece in your home. Not only is it stylish, but it is also functional. The sides open, so maintenance is easy. This litter box furniture keeps odors at bay, and your cat will get all the privacy it needs.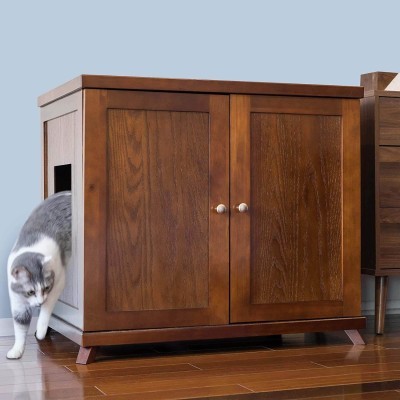 If you love mid-century design, THE REFINED FELINE Cat Litter Box Enclosure might be the right choice for you. This piece of cat litter furniture combines modern and traditional design. The stunning mahogany color makes this hidden litter box a treasure, and you can be pretty sure no one will be able to tell this is a litter box. It ticks all the boxes - easy maintenance, looks like an antique, includes additional storage, and can easily fit even the largest litter boxes in it. This piece will fit great in most dining or living rooms, which gives you the ability to keep a litter box in plain sight.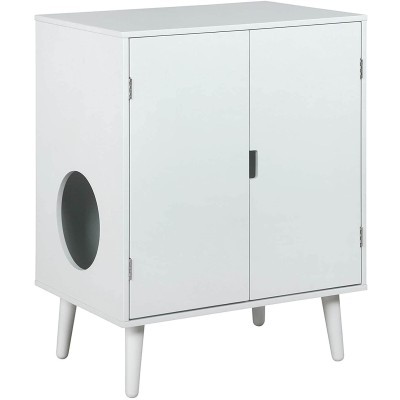 If you love modern furniture, the Penn-Plax Cat Walk Furniture is an ideal choice for you. This piece looks like something Austin Powers might have for his cat. You can fit a cat bed or a litter box in it, and it will look fantastic no matter where you put it. Many buyers agree that this looks absolutely fantastic, and they actually had to convince people that this is a cat litter box. You will have to assemble it, but that shouldn't be too much of a problem. Maintenance is also pretty easy, and the air holes will allow plenty of airflow.
What to look for in a cat litter box furniture?
As you can imagine, not all pieces of cat litter furniture are the same. Some are simply better than others. If you want to get your money's worth, there are a few things you should look for. Don't get the first thing you come across. Here are a few things you should look for;
Size
Measure the space the cat litter box furniture will be placed in. Make sure you have plenty of room for your new piece. You don't want to end up buying something that will simply not fit the designated place.
Style
As you can see, these pieces come in different designs and styles. Take your time and make sure you get something that will fit your interior. You can get something ultra-modern or something that looks like it comes from the beginning of the century.
Maintenance
The design is important, but you don't want to end up with cat litter box furniture that is too complicated to clean. Look for something that will not take up too much of your time. Look for helpful features and easy access.
Odor control
If you are a cat owner, you probably already know how stinky a cat litter box can be. Look for cat litter box furniture that can keep those odors under control. Some pieces have built-in filters that will keep these things contained and your home smelling fresh.
World Cat Finder Team