Top 5 Cat Hammocks For Extra Comfort
05.01.2022.
Every product and service on World Cat Finder is independently selected by our editors, contributors, and experts. If you purchase something through our links, we may earn a referral fee. Learn more
---
There's nothing more cats like than chilling in a cat hammock and watching the world go by them. As a responsible cat owner, you probably want to provide your cat with a cozy place that is stylish and safe for your pet. That is why we bring you the list of best cat hammocks in the upcoming year.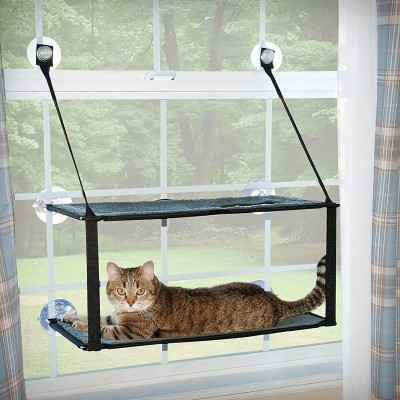 We love the K&H Pet Products EZ Window Mount because it is durable and very easy to install. There is no drilling involved, and it is meant to be placed on a window where your cat can monitor everything. This product has a steel frame, so you can be pretty sure it is sturdy and durable. The suction cups can hold up to 50 lbs, which is more than enough for any cat breed. Plus, you can pick several options that have 1 - 4 levels.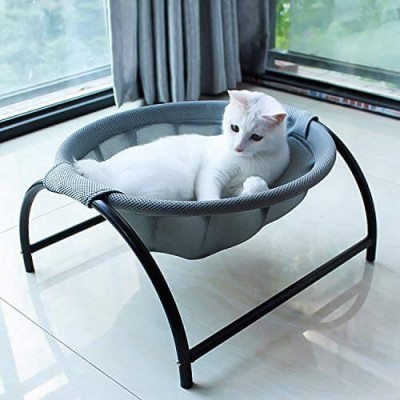 We really love the JUNSPOW Free-Standing Cat Bed. It looks pretty impressive, and it will keep your cat above the cold or hot floor, depending on the season. This product will require some assembly, but that means it is pretty solid when you put it together. The hammock is made from cotton, so it is easy to maintain and is pretty comfortable. It can be used indoors or outdoors, and if it's not in use, you can simply fold it and tuck it away. Plus, the hammock part is machine-washable.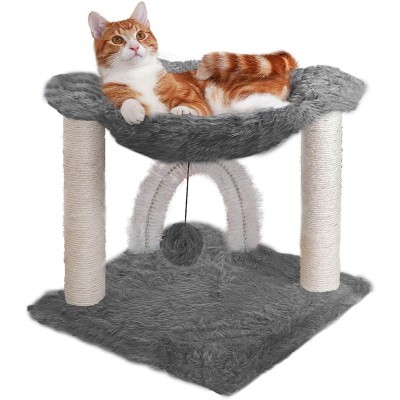 The FurHaven Pet Furniture for Cats offers more than a simple cat hammock. This stylish piece of furniture will provide your cat with a resting as well as a playing area. It includes two scratch posts, a self-grooming brush, a hammock, and a ball on a string. The hammock is covered in soft faux fur fabric that provides superior comfort and warmth. You can be pretty sure your cat will be more than happy with its new piece of furniture. This cat hammock will become its new favorite spot for napping.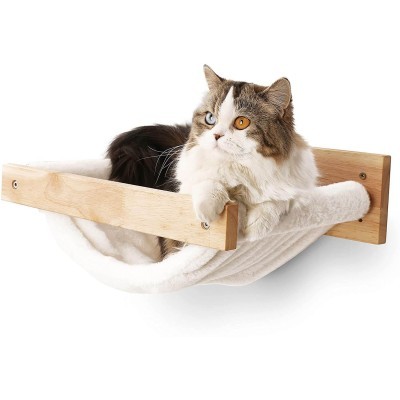 If you prefer wall-mounted cat hammocks, the FUKUMARU Cat Hammock Wall Mounted is the right choice for you. We really like the idea of combining a few of these onto our wall and giving our cats plenty of places to safely climb and rest. As you can imagine, this product will require some work to be safely installed on your wall. However, the huge plus is you get stylish pieces for your wall and your cat. Plus, it is machine-washable, so maintenance is pretty easy.
This is the second wall-mounted cat hammock we decided to include on this list. More precisely, the Art of Paws Cat Shelf is a cat shelf, but it provides the same level of comfort and function as other cat hammocks. This is a beautiful wooden piece of furniture that will fit right in any interior. The manufacturer stated the installation takes about 3 minutes, which is not so bad for wall-mounted cat hammocks. It is durable, and the soft wool will provide plenty of warmth for your cat.
How to pick the best cat hammock?
As you can imagine, not all products are the same. Some are simply not good enough for our cats. You want to make sure your cat has the best possible cat hammock and something that will look pretty in your home. Here are the most important things to look for in a cat hammock;
Size
The first thing you should look for is the cat hammock's size. You want to make sure your cat will comfortably fit in the hammock. Getting too small of a hammock won't do the trick, and your cat won't feel comfortable enough to use it.
Maintenance
Getting a cat hammock that is too difficult to maintain makes no sense. You don't want the hassle of complicated maintenance; cat owners already have enough chores as it is. Pick something you can easily throw in the washing machine and be done with it.
Materials
High-quality cat hammocks include high-quality materials. Look for things like wood, steel, cotton, and faux fur. These things will provide durability, safety, and comfort for your cat. You don't want something that will get destroyed in a month.
World Cat Finder Team