The 5 Best Cat Doors for Your Cat
01.02.2022.
Every product and service on World Cat Finder is independently selected by our editors, contributors, and experts. If you purchase something through our links, we may earn a referral fee. Learn more
---
The cat doors are one of the most elegant solutions to restricting or allowing your cat to move inside or outside. You can even use them as a way of letting your cat enter rooms where the door is usually closed. However, picking the best possible product can be tricky. Here are the best cat doors you can get.
The absolute best cat door you can get is the PetSafe 1-Piece Sliding Glass Door for Dogs and Cats. It will need some work to install, but it is elegant, practical, and works like a charm. However, this product is exclusively for sliding doors. Since it is a 1-piece, you can simply take it off when you move. It is ideal for patios or garden exits, and pets don't seem to mind using it. The installation will require some drilling, but the instructions are pretty straightforward. It's a great product many cat owners are very pleased with.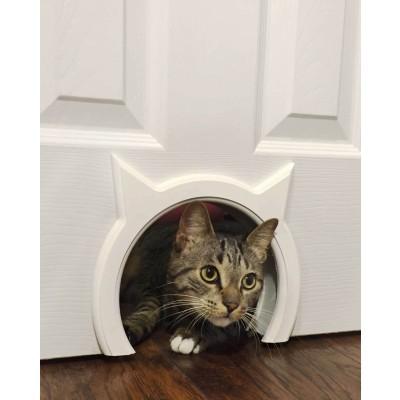 If you ask cat owners about interior cat doors, they will most likely recommend The Kitty Pass Interior Cat Door. This is a product specially designed for internal doors, and it will allow your cat to enter rooms without their tails getting caught in the flap. Keep in mind that you'll need to take your door off the hinges and cut them to install this product. The instructions come with the product, and it includes a template that will help you make the perfect cut. Once the process is done, your cat will be able to enter or exit rooms as they please.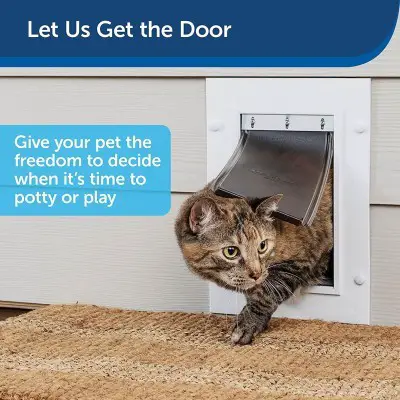 We love PetSafe products, so don't be too surprised we included another one of their fantastic cat doors on this list. The PetSafe Wall Entry Pet Doors is ideal for homes where it might not be viable to install cat doors on the doors or windows. It comes with a magnetic strip to keep the door closed and bad weather out. It comes with a sliding plastic panel that will lock the cat door if you're out of your home. This product can be installed on all sorts of interior and exterior walls. The flappy doors are pretty soft, so you can be pretty sure your cat won't get hurt.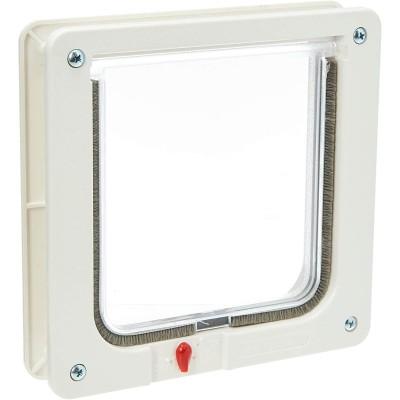 The Ideal Pet Products Cat Flap offers a fantastic value. These cat doors are practical and won't look too bad installed on your front door. However, they will require you to cut your doors with a saw. You need to have some tools at home, so if you don't have them, or you're unsure whether you'll do a good job, hire a professional. The installation is not too complicated, but some of us are not that handy. Once the doors are installed, your cat can go wherever it needs to go. This product has 4 settings - open, closed, only in, and only out.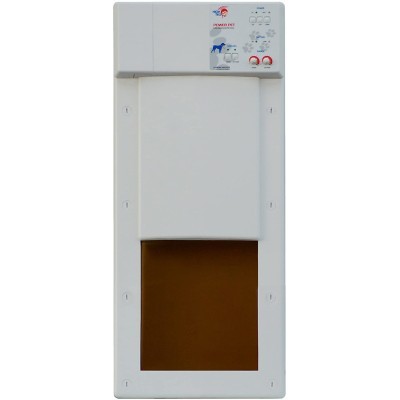 If you want something that's a little bit more high-tech, the High Tech Pet Power Pet Electronic Pet Door might be the ideal choice for you. These cat doors will automatically open and close once they read your cat's sensor. You have complete control over the functions these doors have, so you can turn them off when you want to keep your cat inside or outside. It even has an automatic deadbolt locking system, which means it provides impressive levels of security. It is a great product, but keep in mind that the installation will take time. Again, if you're not sure you can do it yourself, hire a professional.
How to pick the best cat doors?
As you can imagine, simply picking the first product you come across is not the best idea ever. You should consider a few things when selecting the best cat doors for you and your cat. Plus, you don't want to end up with a product that breaks after a while. Luckily, we did the research for you and picked the best products available on the market. Nevertheless, here are a few things you should consider when picking the best cat doors for your cat;
Size
The first thing you should think about is size. You have to get a cat door that will be large enough for your cat. Take a closer look at the full size of the product and the size of the flap.
Flap type
Another important thing you should consider is the flap type. Cats will be a lot happier with see-through doors, so they can actually see where they're going.
Security
Another crucial aspect of cat doors is security. You don't want to end up with an unsafe product, and intruders could use it as a way of entering your house. Look for options that have 2-way or 4-way locking mechanisms.
Installation
The last thing you need to think about is the installation. Some cat doors require you to use some tools, which you might not have. You might need to hire a professional to install the cat door for you.
World Cat Finder Team