7 Best Dry Cat Foods in 2023 - Reviews & Top Picks
02.03.2022.
Every product and service on World Cat Finder is independently selected by our editors, contributors, and experts. If you purchase something through our links, we may earn a referral fee. Learn more
---
One of the most important decisions cat owners have to make is which cat food to feed their cats. This is a highly complex topic, and many cats will thrive on a combination of different foods. However, that still leaves us with hundreds of brands to choose from. Picking the best option for your cat is not easy. Luckily, World Cat Finder is here to help! We bring you the best dry cat foods available on the market.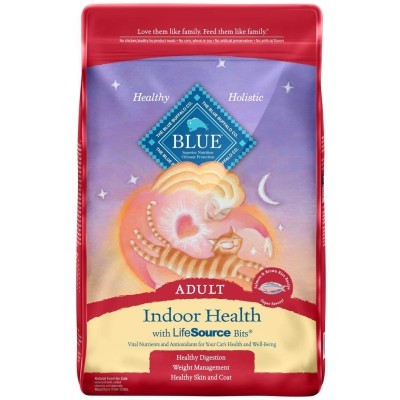 At World Cat Finder, the team combined has more than 100 years of cat ownership experience, and many of us use the Blue Buffalo Indoor Health cat food. This is not the most expensive cat food, but it provides supreme quality ingredients included in the recipe. The recipe we included as our top pick is the Salmon and Brown Rice. This adult cat food provides the cat with a high-quality protein source in the form of salmon. This recipe has a carefully balanced ratio of calories and fat. It includes loads of omega fatty acids to promote skin and coat health. Blue Buffalo is a fantastic pick for all cats and their owners.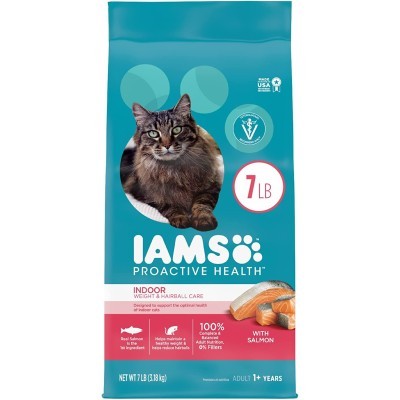 Iams is known as a pet food manufacturer that offers fantastic value. The IAMS PROACTIVE HEALTH cat food is one of the best examples of that. It comes at a reasonable price and provides a fabulous recipe many cat owners are delighted with. It is fairly palatable, so even the pickiest cats will have no issues in gobbling down this dry cat food. There are two different recipes. One is based on chicken as the primary protein source and one on salmon. We prefer the salmon one since it is naturally rich in omega fatty acids. It also has 4 sizes available, so you can choose one that will satisfy even the largest cat breeds.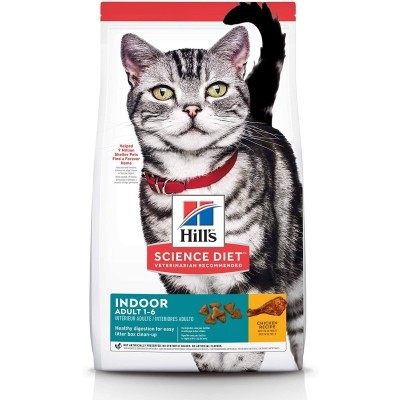 Hill's is another famous pet food manufacturer that makes dog and cat owners around the globe pretty happy. Their Science Diet Adult Indoor Cat Food is another fantastic recipe that is specially formulated to provide all the nutrients our little hunters need. It comes with a slightly higher price tag, but your cat will get high-quality nutrients that will support its overall health. This is a chicken-based recipe, and chicken is a fantastic protein source. This recipe even includes natural fiber, which promotes healthy digestion and makes cleaning the litter box easier. It is an excellent choice for all cat owners.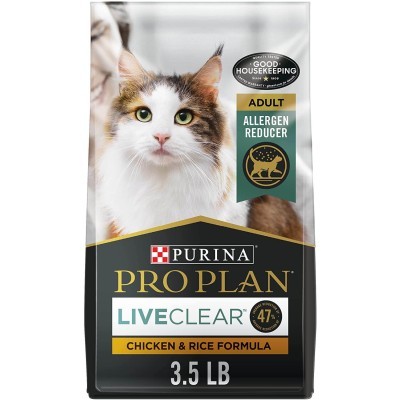 Purina is one of the best-selling cat foods for a good reason - it is fantastic. This recipe is carefully balanced to promote the immune system and reduce the Fel D1 allergen. It might sound surprising, but this cat food aims to help cat owners with cat allergies. The Purina Pro Plan LiveClear With Probiotics is a chicken-based recipe that includes rice. Cats don't seem to have any problems eating it. Scientists and nutritionists at Purina isolated a protein from eggs that counteract the most common cat allergen. They stated the allergen production is reduced by 47% after 3 weeks of feeding.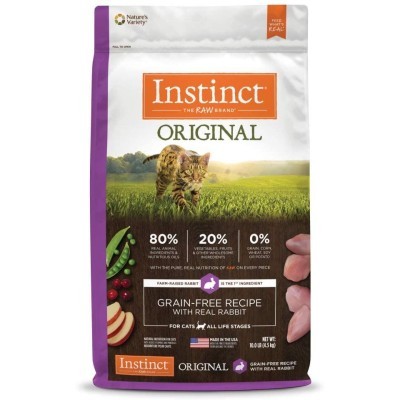 If you're looking for the best possible cat food for your cat and don't really care about the price, the absolute best you can get is the Instinct Grain-Free Dry Cat Food. The only reason this cat food is not our top pick is that it is expensive. However, if your budget can handle these prices, you will get a fantastic product your cat will absolutely love. This is freeze-dried cat food, which means it offers superior palatability. Cats absolutely love the taste of this food, and you can be pretty sure your cat will love it too. The recipe we included here uses rabbit as its main protein source, but you can choose duck, chicken, or salmon.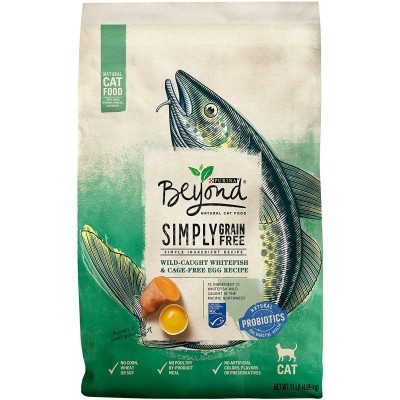 Here is another one of Purina's fantastic cat foods. The Purina Beyond Grain Free Ocean Whitefish & Egg offers a recipe that is not that common but offers fantastic ingredients. Ocean fish is naturally rich in omega fatty acids, which promote the cat's skin and coat health. It contains plenty of high-quality protein as well as natural probiotics to promote healthy digestion. The dietary fiber in this food will make your cat's stool firm and easy to clean. Most cats love the fish taste this food offers, so there's no reason to think your cat won't enjoy it as well. This is a great pick that comes at a reasonable price.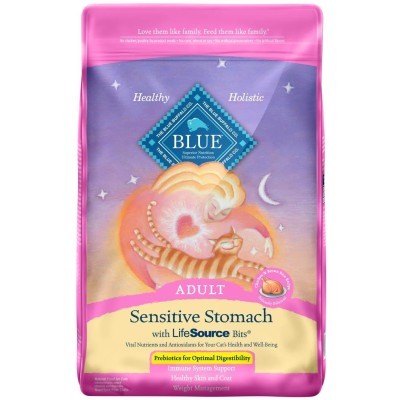 Unfortunately, some cats have sensitive stomachs, making picking the ideal food for them tricky. Luckily, Blue Buffalo Sensitive Stomach is fantastic cat food for those cats. This recipe is based on chicken and brown rice, making it easily digestible while providing great, high-quality ingredients and nutrients. Whole grains, veggies, and fruit will provide cats with enough antioxidants, vitamins, and minerals to maintain their health. Specialized cat foods usually come at a higher price, but this one is very affordable. This is an excellent choice for all cats who often experience digestive issues.
World Cat Finder Team