The 5 Best Automatic Cat Litter Boxes in 2023
10.02.2022.
Every product and service on World Cat Finder is independently selected by our editors, contributors, and experts. If you purchase something through our links, we may earn a referral fee. Learn more
---
Cat owners worldwide know that cleaning a litter box is not the most pleasant task. In fact, it is one of the things we hate the most about being a cat owner. Luckily, many brilliant products can help us deal with this task. They can even make that job as pleasant as possible. The self-cleaning litter box is a life-saver for all cat owners that hate scooping. Here are the best self-cleaning automatic cat litter boxes you can get.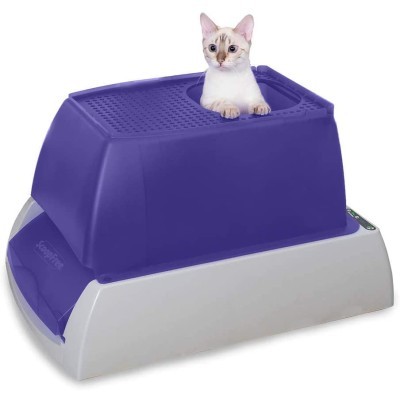 Our top pick is the PetSafe ScoopFree original automatic cat litter box. We fully stand behind this product because it is the one we have at home. There are several options available, and for our cat, the best one was the top-entry model. You can choose two different colors, and we chose the taupe one because it fits our interior better. This is a great product that keeps the kitty odors safely contained. Plus, the top entry will keep the litter inside. We cannot begin to tell you how satisfied we are with this automatic cat litter box.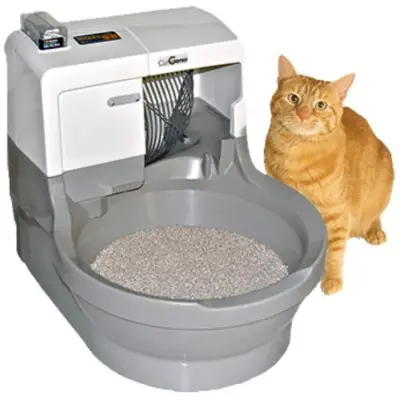 The CatGenie is one of the more popular products among the automatic cat litter boxes. This model completely eliminates the need for litter. It contains special sanitary granules that are scooped, flushed, and blown dry after every nature's call. Your cat will have a spotless litter box whenever it has to go about its business. Keep in mind that the CatGenie Self Washing Self Flushing Cat Box will need a water hookup and a drain for flushing and waste disposal. Despite that, the installation is pretty straightforward.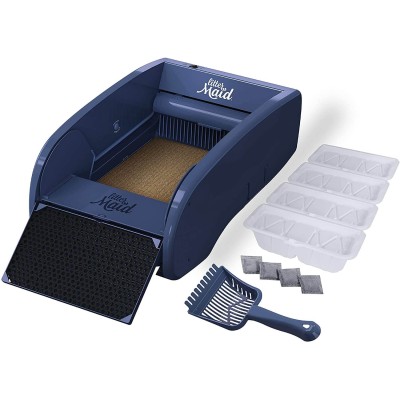 The LitterMaid Multi-Cat Self-Cleaning Litter Box was specifically developed to work for households with multiple cats. The tall walls are fantastic for keeping the litter within the litter box, and the paw-cleaning ramp will make sure no litter gets carried out on your cat's paws. The movable rake will scoop up any mess your cat leaves behind. However, the coolest part about this product is that it can store up to a week's worth of mess. Cleaning the litter box once a week is not that bad. Plus, it has a carbon filter that successfully traps odors inside, and the price isn't that bad.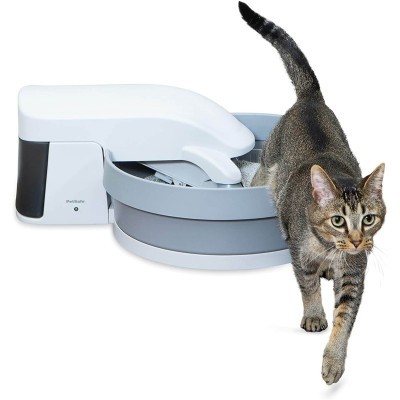 The PetSafe Simply Clean Automatic Cat Litter Box offers excellent value for money. This model works by rotating the litter inside the litter box. Any mess your cat left in the automatic litter box will be scooped up and stored within the storage space. The odor is trapped inside with a carbon filter that can be easily replaced when needed. The litter will make a complete circle every hour and a half, which means it is incredibly slow, and there's no need for timers. However, this product has a weight limit, so it might not be suitable for the largest cat breeds.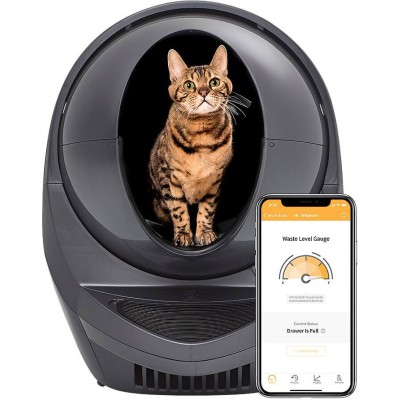 If you're looking for a good-looking, high-tech, automatic cat litter box, the Whisker Litter-Robot is the right choice for you. This product looks like it came out of space. It has a modern, intelligent, and elegant design that can easily become a feature in your home and not just your cat's toilet. This litter box will reduce litter use by up to 50%. The fully enclosed, filtered wastebasket will keep the odors safely tucked away. One thing that bothers us slightly is the price tag. It is rather expensive. Then again, gorgeous, functional tech pieces are pricey.
How to pick the best automatic litter box?
Automatic litter boxes can be pretty expensive, so you want to make sure you don't end up with buyer's remorse. You can't buy the first thing you come across. There are a few important things to consider when getting an automatic litter box;
Scooping functions
Some automatic litter boxes scoop waste immediately after your cat does the business, and some need a couple of minutes. You'd want to look for options with an adjustable timer.
Waste storage
Some litter boxes store waste in waste storage, and some will flush the waste on its own. Think about the litter box placement and choose the best option for yourself.
Price
We already mentioned automatic litter boxes can be expensive. That means the price will play a part in deciding which model you should choose.
Maintenance
The automatic cat litter box might eliminate your need to scoop cat poop, but you will still need to clean the litter box. Make sure you choose one that is easy to maintain.
World Cat Finder Team