Capstar for Kittens: Dosage, Treatment & Effectiveness
19.06.2022.
Every product and service on World Cat Finder is independently selected by our editors, contributors, and experts. If you purchase something through our links, we may earn a referral fee. Learn more
---
Newborn kittens are very sensitive and prone to many different problems. One of the health problems that can affect your kitten is fleas. Fleas are dangerous parasites that can infect your cat and cause trouble. To keep your kitten fleas-free, you will have to take precautions. If you are wondering how to keep your kitten free from fleas, stay with us and find out.
What is Capstar for cats?
Capstar tablets are used for treating fleas. They contain active ingredients called Nitenpyram to help your cat be free of fleas. These tablets are very effective and will start working after 30 minutes. After a thorough examination, these tablets are considered 90% effective in removing adult fleas.
RELATED: Ticks & Cats: How To Spot, Prevent & Eliminate Ticks
After talking to our vet, she has a few suggestions for kitten owners:
"Capstar for a kitten is very dangerous and harmful for newborn kittens. Capstar should only be used on kittens after they are 4 weeks old. For newborn kittens, you should perform grooming instead of using flea treatments."
Problems with Capstar
Capstar tablets will only kill adult fleas, but you will have to use a different flea treatment for your cat if you are concerned about flea eggs.
WORLD CAT FINDER TIP: To remove fleas altogether, you must clean your house regularly, including cleaning cats' beds and all other places where your cat loves to spend time.
Dosage
You can give Capstar to your cat daily. As we already said, Capstar should not be used for newborn kittens since it can lead to many different complications. However, these tables are safe for pregnant and nursing cats to use.
GOOD TO KNOW: Capstar tablets are taken orally and are safe for cats weighing 2-25 lbs.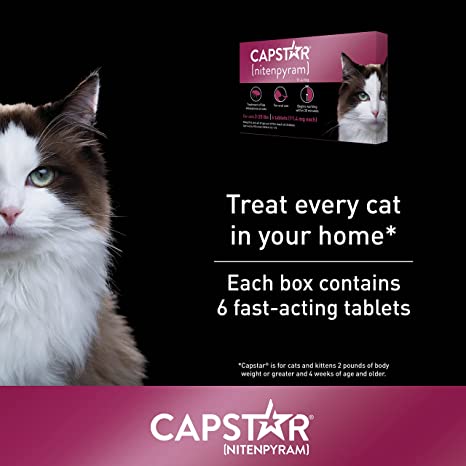 How to remove fleas from newborn kittens?
To keep your newborn kitten safe from fleas, you must bathe them regularly with dish soap. You must be careful that the soap doesn't enter their eyes. Once you are done washing them, wrap them in a towel and dry them completely.
RELATED: 8 Ways To Keep Your Cat Happy & Satisfied
After drying, use a flea comb to remove all fleas still present on the kitten's coat. After combing, put the comb into the soapy water to remove and kill the fleas.
Fleas in newborn kittens are dangerous
If you notice fleas on your newborn kittens, you should take care of the kitten and remove all the fleas. Secondly, you should call your vet and make an appointment, so your vet can examine all the kittens from the litter. Fleas in kittens are known to carry anemia, and if left unnoticed, it could lead to many serious problems.
Conclusion
Since now you have another responsibility of caring for kittens, you should take precautions to keep kittens safe. To prevent fleas from infecting your kittens and cats, you should use Capstar. Capstar will start working after 30 min of ingestion and will protect your kitten and cats from adult fleas. If you are worried about fleas infecting your newborn kittens, you should bathe them and remove fleas with a comb and not use Capstar.
World Cat Finder Team