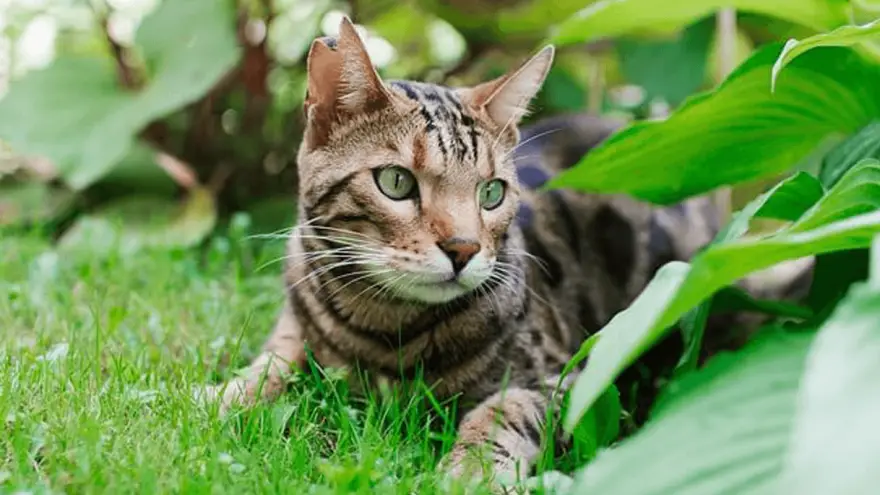 Bengal
If you want to have a cat that has a wild cat appearance, you might want to consider getting a Bengal cat. These cats have a recognizable coat that makes them very interesting and attractive to cat owners across the globe. They give an appearance of an animal that is more at home in the wild than on the soft cushions their owners undoubtedly have for them at home. If you want to know more about the Bengal cat, here is the most crucial information all cat lovers should know.

Length:
17–22 in

Weight:
5-10 lb

Origin:
USA

Life Expectancy:
10-16 years
Breed History
The ancestor of the Bengal cat is the small Asian leopard cat, which is wild, but the Bengal is domesticated to its core. The Bengal was named after the scientific name of the wild Asian Leopard cat, Felis bengalensis, because it was created as a cross between a wild and domesticated cat. In the 50s and 60s, wild Asian leopard cats could be freely bought in pet stores, and a cat breeder by the name of Jean Mill kept a black tom cat alongside her wild cat. She thought the two species couldn't interbreed, but she was wrong.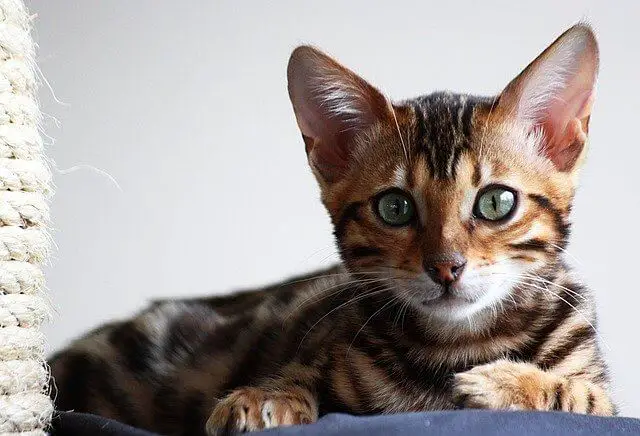 At the same time, Dr. Willard Centerwall was doing experiments. He crossed wild Asian leopard cats in the Loyola University because they were immune to the feline leukemia virus. He was interested to see whether he could pass those traits to domesticated cats. The general public became very interested in these hybrids and wanted them to become fully recognized with established bloodlines. Jean Mill was one of the pioneers in breeding Bengals, and she is credited with the development of the breed as we know it today.
Cat Breed Characteristics
The Bengal's characteristics are exactly what sets them apart from all other cat breeds. These cats are extremely attractive, and in 1990, one was sold for $50.000. Here are the most essential characteristics of Bengal cats all cat fanciers should know how to spot.
Coat
The Bengal has a short, thick coat that is pretty easy to care for. Mind you, the cat will do most of the grooming itself. You should only brush it once a week to remove what's left of the dead hair and distribute the natural oils this cat has in its coat. Their coat feels very soft and luxurious.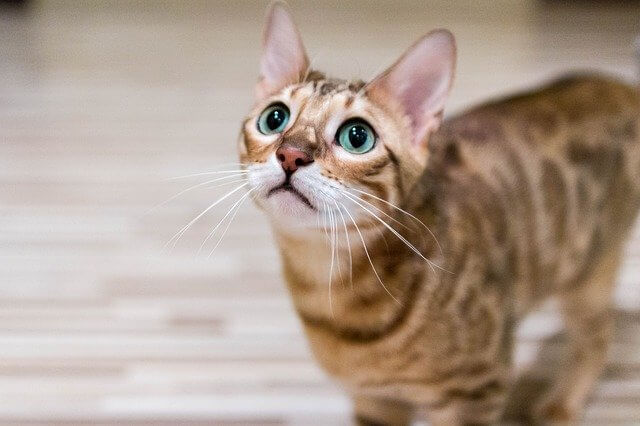 Coat color
The most dominant characteristic of these cats is their color. The Bengal comes in several coat patterns and colors, and the most common ones are black silver tabby, seal silver lynx point, brown tabby, and seal mink tabby. They can have random spots or can have a horizontal pattern of spots. They can also be marbled with horizontal stripes.
Size
These cats are considered medium-to-large. Most are 8 - 15 pounds and 17 - 22 inches long. They are very muscular and agile, and their overall build is very balanced.
Temperament
When it comes to cat breeds created through breeding with wild cats, you can't help but wonder what kind of temperament these kitties have. The good news is that the Bengal cat doesn't share many traits with its wild ancestor. These cats are intelligent, curious, athletic, active, and playful. They are vocal, and their superior intellect makes them really fun to live with. Bengals love bird-watching, which is a favorite activity of many cats. You have to make sure your cat is safe if you're letting them go and play outside.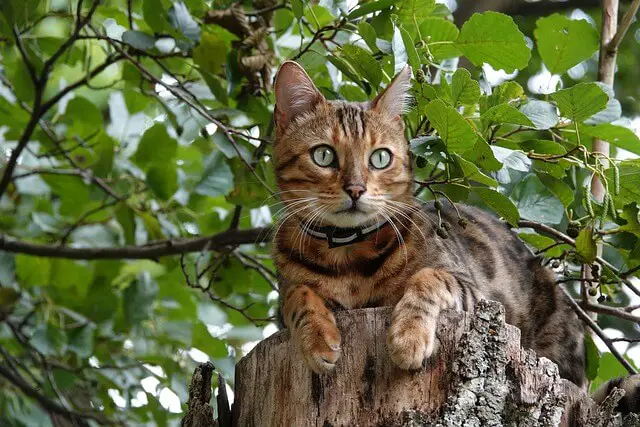 Health
Another important thing for the whole Bengal breed is their overall health. Pureblooded cats can be prone to specific health issues, and unfortunately, Bengal cats are no different. They are considered generally healthy, but owners and vets noticed these common issues in this breed;
Progressive retinal atrophy - A progressive eye condition that can impact the cat's vision.
Hip dysplasia - A skeletal development issue that can affect the cat's hip development and function.
Distal neuropathy - It is a weakness-causing nervous system disorder.
Flat-chested kitten syndrome - A developmental deformity that can be mild or severe.
Hypertrophic cardiomyopathy - A genetic disease that causes the cat's heart to become enlarged.
Patellar luxation - This is a hereditary kneecap dislocation. It can be mild or severe.
World Cat Finder Team